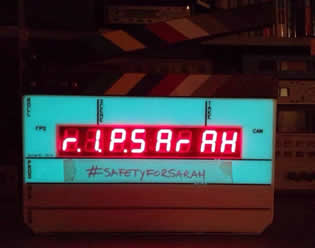 On February 20 2014, 27-year-old assistant cameraperson, Sarah Jones, was killed in a tragic train accident on the set of the film MIDNIGHT RIDER near Savannah Georgia. The accident also injured half a dozen crew.
Sarah's death has resonated with tens of thousands of filmmakers, and has spurred a rallying cry for greater on-set safety. Many are using the #SafetyForSarah hashtag to spread this message.
Crew professionals from around the world are memorializing Sarah by marking their production camera slates with "For Sarah Jones", "For Sarah", and "RIP Sarah"— and many continue to wear black ribbons while working on-set. A Slates for Sarah Facebook page contains pictures of these slates as a fitting tributes to Sarah.
The Academy of Motion Picture Arts & Sciences included Sarah Jones in the 2014 memorial and during the broadcast of the 2014 Oscars. The "Vampire Diaries" on which she had worked for several seasons ended its February 27 episode with this legend: "In Loving Memory of Sarah Jones, 1986—2014".
Our hearts and prayers go out to Sarah's family and friends in this time of loss. In lieu of flowers, Sarah's family is requesting that donations be made to:
BC Education Foundation Sarah Jones Scholarship Fund
c/o Brookland-Cayce High School
1300 State Street
Cayce, SC 29033
Sarah Elizabeth Jones, 27, was a native of West Columbia, South Carolina. She was born on September 22, 1986. She lived in Atlanta, GA where she worked as a Camera Assistant on many projects.
Sarah lost her earthly life on February 20, 2014 in Savannah, GA, doing the job she loved. A graduate of Brookland-Cayce High School and the College of Charleston, Sarah finished her formal education with a major in Media Communications and a minor in Film Studies. Sarah began her film career while interning on the set of Army Wives, a popular television show. With her spunk and determination, Sarah continued to climb the ranks of the film industry, quickly finding a passion in the art of Cinematography. She was a loyal and respected member of the International Cinematographers Guild (IATSE Local 600).
From the heights of the mountains she hiked, to the depths of the oceans she dove (and never without a camera to record her experiences), the gift of her presence was felt far and wide. To have HEARD of Sarah was a privilege, to have KNOWN Sarah was a blessing. It was to feel an energy that was infectious and kind. Although her physical being is no longer beside us, her smile and her love of life will forever transcend in all the lives of those she touched. Her friends are too many to count.
Sarah is survived by her parents, Richard and Elizabeth Jones, of West Columbia; her grandfather Andrew Jones, of West Columbia; her brother, Eric Jones, of Atlanta, GA; her sister, Rebecca Jones, of Boone, NC; and a devoted extended family of cousins, aunts and uncles.
Visit the Slates for Sarah Facebook page